Hundred Proof
App UI Design, Branding, Illustration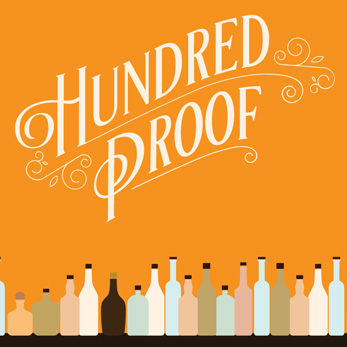 Click thumbnail to view app
Challenge
To design a visual identity and user interface for a simple dilution app
Audience
Middle to upper income men and women, mid 20s - mid 50s with an interest in craft cocktails
Solution
This simple web app is a collaboration with UX designer and front end developer Zach Steiner, who conceived of the app after tiring of the algebra required to dilute homemade liqueur. The user to enters a quantity, a starting proof or ABV, and the desired ending proof or ABV. The app seamlessly does the math and displays the amount of water needed to dilute the cocktail or liqueur to the desired strength.
The app is designed in a contemporary flat style with nods to vintage design. The custom icons and illustrations are designed to read well at smaller sizes.
The typography pairs two contrasting Google Fonts, Raleway and Lora, to give a whimsical and retro sensibility to the design. Homemade Apple, a handwriting font in a gray tone mean to evoke graphite, is used for the text in input fields to recall the handwritten tags that often label small batch spirits.
Role
Visual, identity, and UI designer, illustrator
Back