About
Designer. Teacher. Smarty-pants.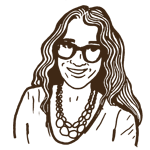 I'm a former secretary by day/fine art lithographer by night who realized that design is a perfect fit for my art background, meticulous attention to detail, and customer service skills after my marketing and design responsibilities increased at my last secretarial gig.
I returned to school full time in August of 2014 to strengthen my knowledge of industry-standard design software, and to learn to code. In November of 2014 I was invited to join the faculty at Ivy Tech as a typography instructor, where I share my wild enthusiasm for type and layout with beginning design students.
Currently, I sling code and push pixels in Carmel, Indiana, where I design digital marketing and direct mail campaigns for Dominion Dealer Solutions.
I love to work hard, and laugh harder. If I can do both and encourage others to do the same, I'm set.
My little sister nicknamed me Jackalope. As an odd, but cute critter who called the southwest home for a decade, I think it's totally appropriate.
Get In Touch